What Is an ADU and Should I Have One?
As a California resident, you're likely aware of the dramatic housing crisis. Despite the state's slowly declining population, California is in desperate need of housing options across many of its top cities and counties.
According to state officials, California would need to build 180,000 new housing units each year to meet the demand. At best, the state is building about half of that number, resulting in a continuous housing crisis.
One of the best potential solutions for this crisis is the construction of individual accessory dwelling units (ADUs). These on-property additions provide an excellent opportunity to house additional California residents, as well as beloved family members like your elderly mom and pop.
Often referred to as "granny flats" or "backyard cottages," ADUs can be located either within the main structure or as separate structures on the same property. Their versatility and cost-efficiency make them a flexible option for families and renters alike.
Of course, navigating the ADU construction process isn't always simple. There are various regulations and requirements to consider – and should you decide to build one, you'll need to do everything by the book.
In this guide, we're providing a comprehensive overview of ADUs in California, including the benefits, regulations, and financing options. Let's take a look.
What Is an ADU?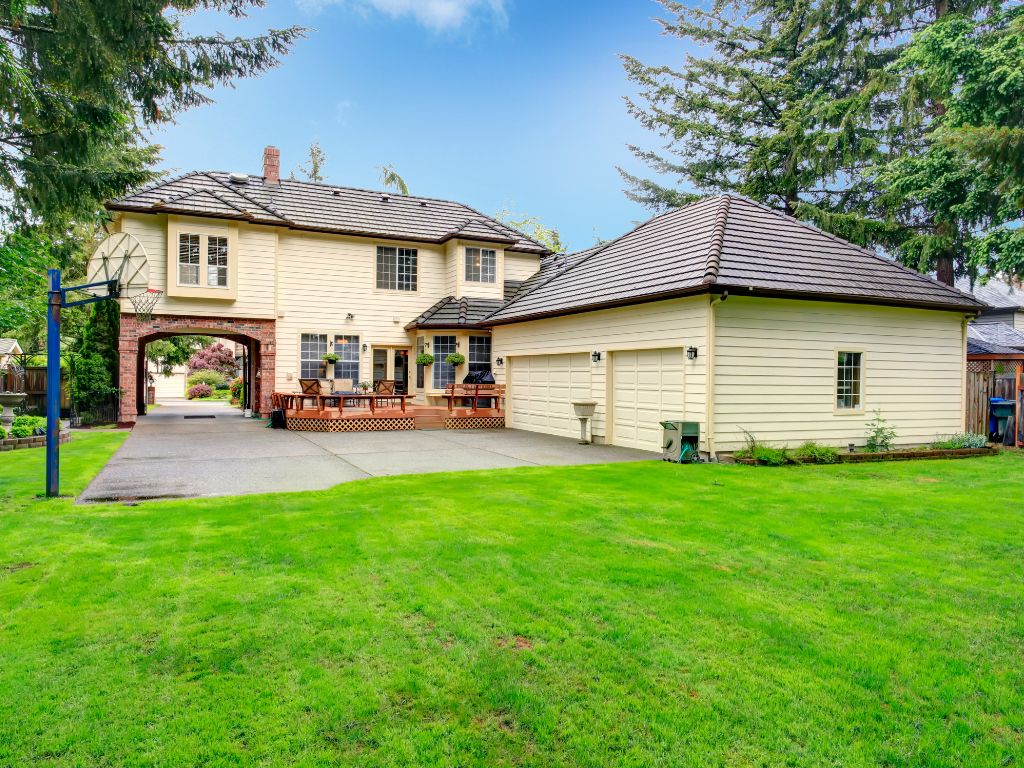 Accessory dwelling unit (ADU) is the official term for any type of secondary living unit or apartment that you plan to add to your property in addition to your primary home. However, ADUs go by many different names throughout the U.S., including…
Guesthouse
Secondary suites
Granny flats
In-law suites
Pool House
ADUs can be converted portions of existing homes, additions to new or existing homes, or new stand-alone accessory structures. They can also be converted into portions of existing stand-alone accessory structures.
Many Californians choose to convert their garage into an attached separate living unit. Others transform basements or add an above-garage space, which makes use of already existing buildings.
On the other hand, some homeowners prefer to build detached ADUs. This involves building a small standalone "cottage" or unit in the backyard with its own entrance, utilities, and required living spaces.
These examples represent a range of ADU options, but it's important to note that specific regulations, size limitations, and requirements can vary depending on local ordinances and zoning laws.
For example, detached ADUs in Los Angeles must…
Be 50% the size of the central unit (or smaller)
Have a living room/bedroom that's at least 70 square feet
Have a kitchen that's at least 50 square feet
Have a bathroom that's at least 30 square feet with a toilet, sink, and shower/tub
To learn about the ADU regulations in your area, check out the ADU Handbook by the California Department of Housing and Community Development. You can also speak with a local contractor familiar with ADU construction projects in the area.
What Are the Possible Uses for ADUs?
Increased Housing Supply
ADU development brings personal benefits for homeowners, but it also helps combat the housing crisis in our state. As former L.A. Mayor Eric Garcetti said,
"If just 10% of the city's 500,000 single-family homes had an Accessory Dwelling Unit, Los Angeles could increase its housing density by half in just a handful of years. Most notably, this could be done without altering the character of a neighborhood."
Expanding the range of housing types available could significantly increase California's housing supply and help low-income residents thrive. Whether they're internal, attached, or detached, ADUs have the potential to…
Increase housing affordability (for both homeowners and tenants)
Enable seniors, disabled individuals, and young people to stay near families
Generate better use of existing housing in established neighborhoods
For these reasons, many cities and counties have begun to implement support for ADUs in their plans and adopted zoning regulations. It's becoming increasingly common for ADUs to be permitted in both high and low-density residential areas.
Multigenerational Living Options
Perhaps most commonly, ADUs are used to house aging family members who require more care and need to live near family (but cannot easily afford to do so).
The fastest-growing homeless population in California is people over the age of 55. Many seniors, especially those who have retired, cannot afford to live near their families in popular cities and counties. They also cannot pay for the necessary care at a local retirement community or healthcare facility.
ADUs offer families a way to house and care for their aging loved ones, as well as other family members, without significantly increasing their own expenses. Whether nana needs more daily care or your 21-year-old son needs a place to live, an ADU might offer a cost-effective solution.
Potential for Rental Income
ADUs can typically be built at a fraction of the price of a new single-family home, making it a smart financial move for homeowners to add to their existing property. In many cases, the potential rent generated from the ADU would be able to pay for the entire project in a matter of years.
In California, money received from tenants for monthly property rentals can be counted as legal income. These payments will still be taxed but can make living expenses more manageable for many families with extra living space to share.
Home Office or Studio Spaces
Housing costs are high, but so are studio and office rental expenses. With more and more Californians working remotely, it makes sense that many are looking for ways to optimize their space and create a home office.
Building an ADU offers homeowners the chance to customize their workspaces and create a "zen" environment without paying the high California office rental prices.
California's ADU Regulations and Requirements
Local Zoning and Building Codes
ADU rules differ from city to city. To learn which ADU types may be eligible on your property, you can use Housable's free tool. This will help you explore your options and find a starting point for your construction project.
You'll also want to contact a certified, trusted contracting business in the area. This is the best way to ensure your entire project will be handled according to your area's specific regulations. 
Permitting Process
Permitting is a critical step in the ADU construction process. When you take the correct permitting steps, your code-compliant building will actively contribute to your property's value. You'll also be able to connect it to city utilities and legally rent it to tenants.
Do your homework early on. Learn exactly which applications you need to file and the documentation you need to obtain. You'll thank yourself later.
Owner Occupancy Requirements
In the state of California, you no longer need to live in the primary home or the unit itself to build an ADU. This is a key change benefiting investors and landlords – they can now apply for ADUs for their rental and investment properties, even if they live somewhere else.
Currently, any ADU approved before January 1, 2025 (when the legislation is up for review) will be exempt from any potential future owner-occupancy restrictions.
Please refer to the revised ADU Handbook for the latest updates to the State ADU Law, which encompasses the effects of SB 9 on ADUs, effective from January 1, 2022.
Common ADU Financing Options
Whether you want to provide housing for relatives or rent your ADU out for passive income, you'll need to figure out how you're going to pay for its construction.
Fortunately, the increased demand for ADUs in California has increased funding options for homeowners. Let's look at some of the most popular financing methods available.
Home Equity Loans or Lines of Credit
A popular way to finance ADUs is to use your home equity and take out a second mortgage – either a one-time loan or a home equity line of credit (HELOC). This secures you a lump sum that you will need to pay back in installments.
Home equity loans do not replace your current mortgage. The terms and interest rate associated with your original mortgage will remain the same, which is preferable for many homeowners.
In fact, the Terner Center's report indicates that up to 56% of homeowners building an ADU in California used a Home Equity Loan/HELOC to finance their project.
Government Programs/Incentives
Another great way to finance your ADU is to look into California's incentives. For example, the state's ADU grant can provide up to $40,000 towards pre-development and non-reoccurring closing costs associated with the construction of an ADU.
These predevelopment costs include a wide range of expenses, including those for site prep, architectural designs, permits, soil tests, impact fees, property surveys, and energy reports.

To qualify for the California ADU Financing Program, you will need to apply for a construction loan with an approved lender. Once you are approved, your predevelopment work will be paid through the construction loan account.
Construction Loans
Many people apply for construction loans for home improvement projects, including the building of an ADU, simply because they allow you to borrow based on the future value of the home.
This was a popular option in previous years, but now isn't always the best choice – largely because it forces homeowners to refinance, which could mean losing out on the initial mortgage rate (which was likely lower than today's options). Construction loans can also face higher closing costs based on the new value of the mortgage and budget.
If you're not sure which financing option is right for you, you may want to speak with an experienced contractor in the area. They'll help you assess your options and choose the best one for your particular needs and budget.
Looking to Add an ADU in California? Let's Talk.
In-law suite, granny flat, rental cottage – no matter what you call them, ADUs can offer an innovative, affordable, and effective way to expand housing options, generate income, and/or keep loved ones close.
If you're thinking of building an ADU, contact American Remodelers Inc. today. Our residential home construction division was established in response to the growing need for experienced service providers in the Montara, CA area. We have over 35 years of experience building better homes and ADUs for California residents.
We'll start with a free consultation to learn what you're envisioning. Then, we'll walk you through the possibilities and help make your dream a reality.